(A short review of a play)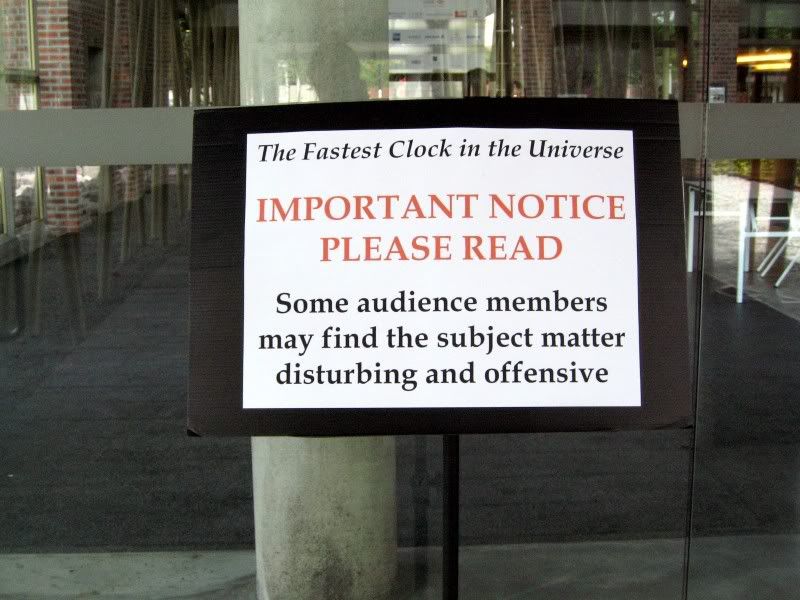 Warning!
Watched the new Joe Hasham play,
The Fastest Clock in The Universe
, at the KLPAC with Pat, SooJ, Chen and some others on Sunday afternoon...
(Thanks for organising, SooJ!)
Overall, I liked the play as it was very
different
....
When they said it is only suitable for mature audiences, they were NOT kidding. Dark, melancholic, murderous, incentous, in denial, paedophilic and abusive, with a healthy dose of a love, hate and homosexuality in a tight 2 x 1 hour package. All this, with NO prop/ set changes and only five cast members: Gavin Yap, Ari Ratos, Joanna Bessey, Niki Cheong and Faridah Merican.
Gavin Yap: Smokin' Hot
I enjoyed Ari and Faridah's characters and performances but thought that Joanna and Niki's were a little typical and weak... I suppose they served their purpose though.
I
ESPECIALLY
enjoyed Gavin's performance as the brooding modern day Dorian Gray.... but I am sure that has nothing, absolutely NOTHING to do with the fact that he started off the play wearing nothing but a pair of boots, sunnies and a pair of jeans that hugged his buns in a very complimenting manner....
*drool*
Oh, and not that I want to go on about it, but his hard, chiseled abs (all 6 of them) were definately a sight to behold.
(Sadly, after about 10 minutes, he put a shirt and jacket on - yes, I was upset for the rest of the show)
Was very tempted to take photos of him (not that I wanted to be a perve or anything like that... it would have been for YOUR benefit la) but was seated behind Joe Hasham and didn't want to get caught.
:(
(Erm. Shall stop ranting now)
I really don't want to put in any spoilers until after the show has finished its run (it's on from June 2 till 11, 2006) so I'll sum it up as this:
Worth a watch for RM50/ RM30. It's a play that is funny yet dark and is very different. It will make you think, and everyone will get a different meaning from it due to its subjective nature. Oh, and please watch with an open mind - homophobes and painfully conservative people should probably stay away, for your own sakes.
(I know Pat, SooJ and Chen are already mentally scarred from one particular scene that involves magazines, pants and a certain hand)
*Pat, SooJ and Chen scream in chorus*
:)
Summary Info:
Name of Play - The Fastest Clock In The Universe
Venue -
The Kuala Lumpur Performing Arts Center (KLPAC)
Dates - June 2 till June 11, 2006
Price - RM50 (adults) / RM30 (students, seniors, disabled)
Bookings -
Online
or Phone 2094 9400/ 4047 9000
TAGS: Weblog, Blog, Malaysia, Personal, The Fastest Clock In The Universe, Kuala Lumpur Performing Arts Center, Joe Hasham, KLPAC, Review, Play, Arts, Art