G'day mate!
How ya' going?
:)
This time I'm taking you slightly further away to a restaurant called
Berth
in NewQuay Promenade, which is located in the up and coming Docklands area in Melbourne, Australia.
The Dinner
The ambience here is romantic in a modern way, with a hard metal finishings softened with plush furnishing.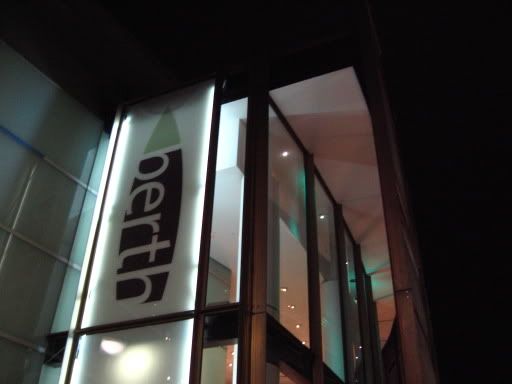 Berth: Restaurant Exterior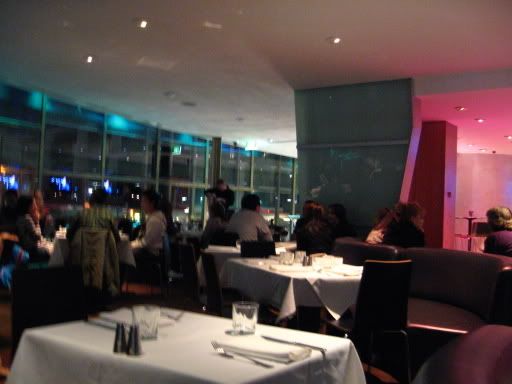 Berth: Restaurant Interior
Do make it a point to ask for a window seat as the large glass window panels will give you access to a beautiful view of the bay area at night:
View of the Bay from Inside Berth
First off, the Bruschetta: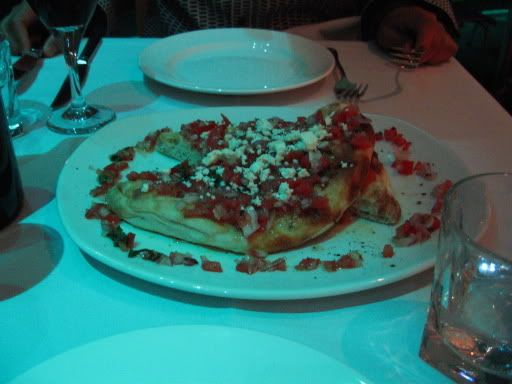 The Bruschetta
Monstrous in size but only average in taste, the bread tasted very "doughy". The topping of Roma tomatoes and garlic was nice though, although probably not the best choice on a date.
*sniff-sniff*
Phew - garlic is
NOT
a sexy scent....
For the main, we tried the Duck Risotto with Porcini Mushrooms and Wilted Rockets:
The Duck Risotto
The Risotto was only "OK" - it had a simple flavour with the rice done just right, but still definately not fantastic in my books.
I don't remember finding much duck or mushrooms in it and had to add a lot of cheese to make it tasty.
Next, the highlight of the night: the Lamb Shank:
The Lamb Shank
Oh glorious Lamb Shank!
I still dream of your taste in my mouth - so tender and so tasty, with a hint of citrus flavour in your marinade which complimented you perfectly.
Finally, we had the Hot Chocolate Cake for dessert:
The Chocolate Cake
The Chocolate Cake, served with vanilla ice cream, was moist and sinful - a good way to end the night.
:)
I really have to thank LP for this restaurant recommendation....
*hugs*
I'll admit that there were some hits and misses on the menu but the ambience + the great view + affordable prices + great lamb shank made this restaurant well worth the effort of fighting through that bitterly cold Melburnian wind at the Docklands.
So, it's: Great view, friendly and cute waiters, good wine, hits & misses on menu (GREAT Lamb Shank) BUT well, it's in Melbourne lah (not very accessible to us Malaysians here in KL, is it?)
Restaurant Review
Summary Sheet:
Berth @ NewQuay Promenade

Taste: 7
Ambience : 8
Service : 8
Price** : AUD$35++ per person
Parking: Took Tram, So Dunno

** Approximation - 3 course meal, excluding drinks
Telephone No.: (61) 03-9670 0199
Opening Hours: 11am - late
NOT HALAL
TAGS: Food, Blog, Weblog, Malaysia, Restaurant Review, Restaurant Reviews, Berth, Modern Australian, NewQuay Promenade, Docklands, Victoria, Australia, Melbourne