Presenting, another wonderful made-in-Malaysia product: Kopi Larat!
(Literal Translation: Coffee Stamina)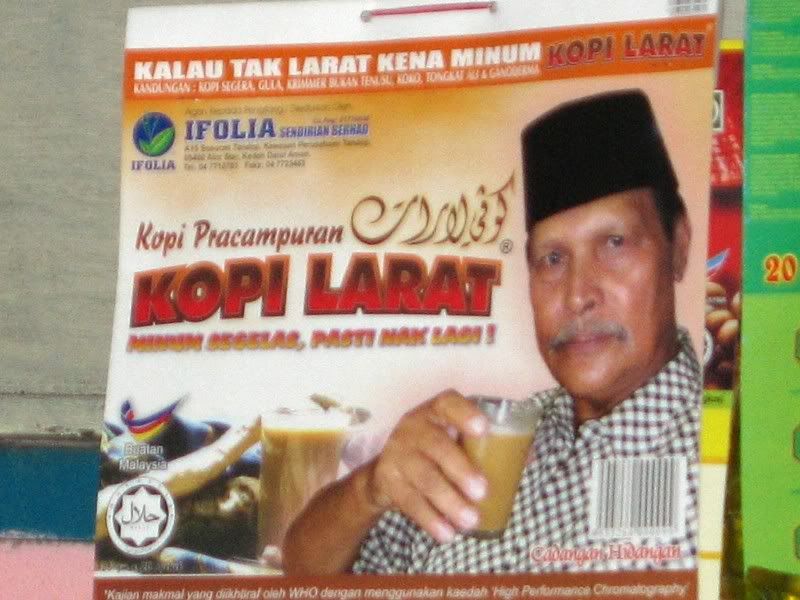 Pak Mat sez: "Ada Ooomph!"
It's strange how the whole
Tongkat Ali
craze has gone right through the roof over the last few years... Now, other than the usual pills and potions, there are so many different brands offering different variations of the magical root mixed with coffee/ tea/ etc... Strangely, the one consistent theme with the advertising for most of them is that the "model" will be a really "alim" (religious) looking old man.
O_o
I don't know about you, but it just strikes me as a little weird la.... That's like having a picture of a priest on the posters/ packaging for Viagra tablets (seeing as
Tongkat Ali
is reputed to have similar effects on men).
Eek.
Like I said, W-E-I-R-D.
Of course, there are some others taking a different (and not very subtle) approach to the advertising.....
Should it come with a warning label then?
*lol*
TAGS: Blog, Weblog, Tongkat Ali, Malaysia, Kuala Lumpur, Personal