A gripey review on a pub/ cafe in Hartamas......
The Dinner
I will always remember all those priceless moments from that night:
*fade in*
Scene 1:
J walks into the cute English pub/ restaurant and approaches one waiter.....
J:
"Excuse me,... is there a table booking here for Patrick or Leonard? I'm meeting friends."
Waiter A:
"Harr. WHO? Who is that? What do you want?"
J:
"Well,.. I'm here for dinner. I'm meeting friends. They usually book the table."

Waiter A:
"Don't have. You don't see them here? *grunt* Maybe upstairs. *points at stairs and walks off*"
*blink-blink*
Is this what they call "service" in this joint?
(I found out later that the Bulldog does not take any table reservations for reasons unknown but still, it was NOT a good first impression at all.... It didn't stop there though)
Scene 2:
*imagine there are 8 of us seated at the table with only 2 menus to share*
J:
"Excuse me, can we have more menus to look at please?"

Waiter B:
"Don't have."
Patrick:
"Huh? Your whole restaurant only has 2 menus?."
Waiter B:
"Upstairs no more."

(Now, after further discussion with Waiter B, he grudgingly went downstairs and kindly fished out 2 more menus for us)
(And BTW, the fun continues!)
Scene 3:
*Waiter B takes orders from 4 people and happily saunters off to the bar area and stands there fiddling around for 10 minutes*
J:
"Erm, ...*waves hand at waiter* ... excuse me. Are you still taking orders?"

Waiter B:
"*evil eye to J* ... Yeaaa-AH!"

(Ooh... and the highlight of the night was when
Leonard
only got his Yorkshire Pudding with Roast Beef AFTER everyone finished eating)
*fade out*
Fooyorr - Really teruk.
*sigh*
I'd like to think that the waiters are actually nice people....
However, one thing's for sure: they are nice people who don't give a flying fish about customer service.
Oh man, I have griped a LOT already.... I think I'd better actually review the food.
(Sorry, I got a bit carried away - I just haven't had such rip-roaringly bad service for quite a while now)
Ok.
*breathes in*
The food at The Bulldog is down to earth, typical English pub fare so you can expect stuff like Pies, Fish and Chips as well as England's national food:
The Chicken Tikka Masala
.
The Bulldog Exterior (and serviette)
It has 2 levels, the downstairs is more of a bar/ lounge, with just a few small tables for dining patrons, while there upstairs is more of the restaurant area, with pool tables on the side to keep you amused while you wait for your food: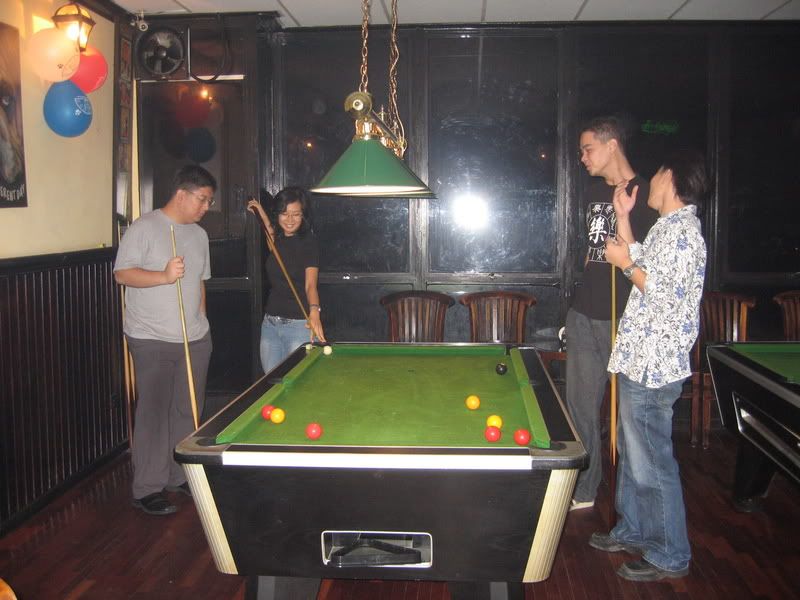 The Pool Table In The Bulldog
We started night with some Deep Fried Cheesy Meatballs (RM11++):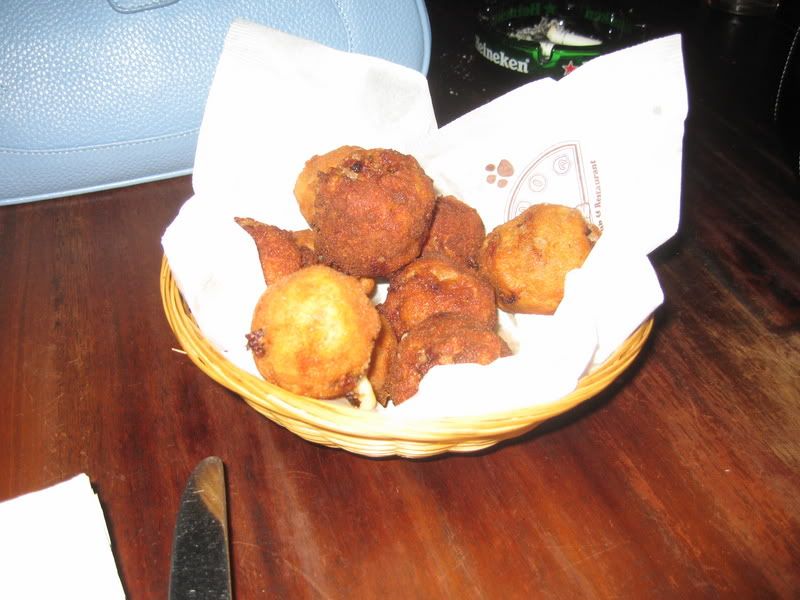 The Dry Meatballs
The beef meatballs, deepfried with
a little
cheese inside, were generally overcooked, with a distinctly dry texture.
We moved on to the mains, the Bangers and Mash, Steak with Black Pepper Sauce, Pork Chop with Apple Sauce, Shephard's Pie and the Yorkshire Pudding with Roast Beef: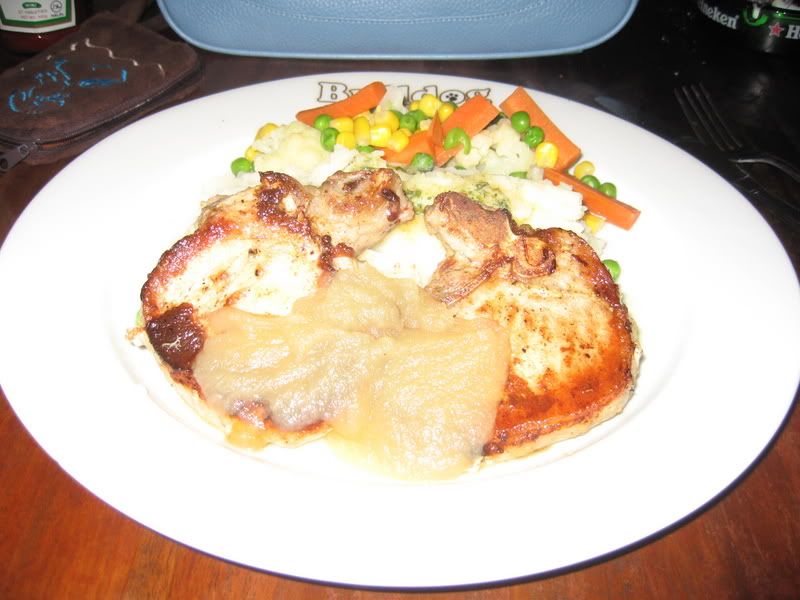 Left to Right, Top to Bottom: The Pork Chop, The Steak, The Yorkshire
Pudding,
The Shephard's Pie and The Bangers & Mash
The Bangers and Mash, with a choice of either pork, lamb or beef sausages served with a generous amount of mash potatoes, is one of The Bulldog's specialties.
It was ok, worth a try: the mash was nice but the sausages are similar to those that you can get from gourmet delis.
The Shephard's Pie, minced lamb in a tomato herb sauce, topped with gratinated mash potatoes, was ok. The mince was a little dry but did not have that "lamb-y" taste so I guess it was slightly above average.
The Steak was not bad, I guess - ok flavour and ok texture but nothing extraordinary.
Not much else to comment.
(I am very hard to please when it comes to steaks)
The Yorkshire Pudding
was, also only ok.
(Mind you, I have no point of reference - this is the first Yorkshire Pudding I've tasted)
The pastry was tasty but the beef was dry.
(Dousing it in the accompanying brown sauce helped somewhat)
The Pork Chop served with mash potatoes (my order on that night) was a disappointment. The meat was (
AGAIN
) dry, and relatively tasteless - in fact (as
Jo-lyn
rightly pointed out) the accompanying apple sauce totally overpowered it.
(So, it was like eating apple flavoured meat)
I apologise, I can't remember the prices for most of the above but generally, the mains we had range from RM27++ to RM40++...
Anyway, if nothing else, the servings were generous so I was too full to try any dessert.
(There was an amusingly named dish called
the Spotted Dick
, though - haha, how do these English ppl come up with these hilarious names?)
So it's: Unpretentious dining,in an English Pub setting, quite generous serving sizes BUT didn't taste that great and bad, BAD service.
Restaurant Review
Summary Sheet:
The Bulldog Pub and Cafe @ Hartamas
Taste: 5
Ambience : 6
Service : 3 (FAIL!)
Price** : RM70/++ per person
Parking: OK

** Approximation - Per person, 3 course dinner without drinks
Telephone No.: 03-6201 4484
Opening Hours: 11am - late
NOT HALAL
TAGS:Food, Blog, Weblog, Malaysia, Restaurant Review, Restaurant Reviews, English Pub Food, English Food, The Bulldog, English Pub, Hartamas, Kuala Lumpur, KL