A short post on an expensive but nice place to eat Nasi Lemak....
Went out with my mum one weekend to shop in Midvalley and decided to drop by Madam Kwan's for lunch.... The outlet there is fairly new (on the 1st Floor, between Picollo Mondo and Toys R'Us) and has a comfortable, modern feel to it: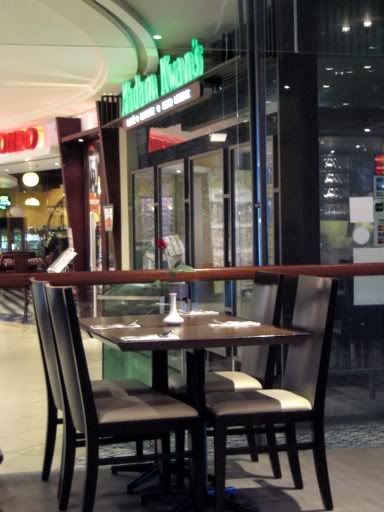 A look at Madam Kwan's - Midvalley
The specialty at Madam Kwan's is the Nasi Lemak: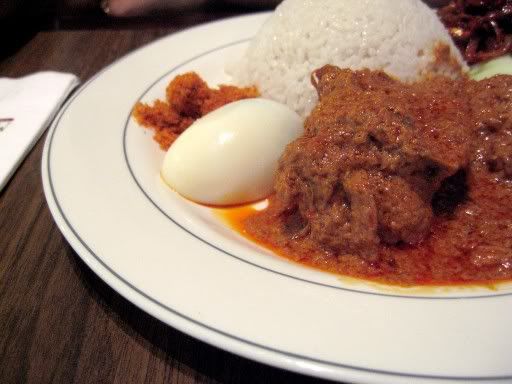 The Nasi Lemak
What you get for RM14++:
Fragrant rice, Delicious curry chicken, Half boiled egg, Sweet and spicy sambal ikan bilis, Yummy achar and Chicken floss.
Another favourite is the Nasi Bojari: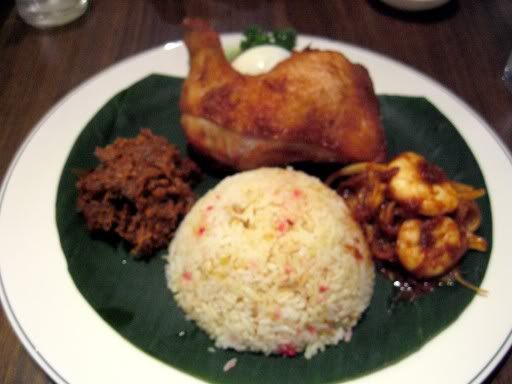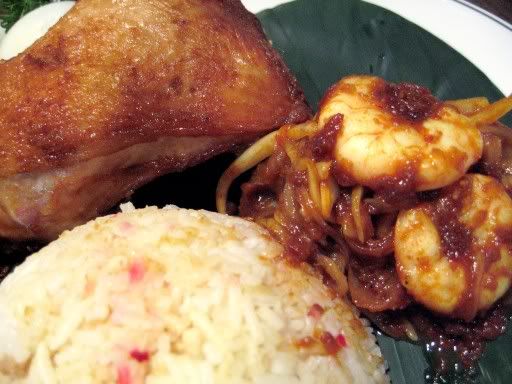 The Nasi Bojari
Man, was it a heavy meal.
What you get for RM19++:
Fragrant rice - coloured and fried with bits of chicken, garlic and dried prawns, Tender beef/ chicken rendang (your choice), Chicken drumstick fried to crispy golden brown perfection and Assam prawns.
I didn't have any dessert that day as stomach was already bulging but I've tried the banana split and sago gula melaka on prior occasions - they are refreshing but nothing extraordinary.
Truth be told, the prices here are NOT cheap but it's for a reason - you are paying a premium to eat at a nicely decorated, air conditioned eatery and be served by friendly, helpful staff with super quick order to serving time.
I will say though, the food quality is consistent and the servings are pretty generous so you won't feel cheated.
(I never have, anyway)
As far as I know, they have
3
4!
outlets. Here are the contact details:
Madam Kwan's Midvalley: 03-2287 2297
Madam Kwan's KLCC: 03-2026 2297
Madam Kwan's Telawi Street, Bangsar: 03-2284 2297
(
NEW!
) Madam Kwan's Pavilion, KL: 03-2143 2297
TAGS: Blog, Weblog, Restaurant, Midvalley, Malaysia, Nasi Lemak, Nasi Bojari, Madam Kwan, Madam Kwan's, KL, Kuala Lumpur, Personal