The Dinner
[ BEGIN EDIT ]
(July 08)
(Been meaning to update on this for a while but it slipped my mind. My bad... )
FYI: About 2 months ago, the Overseas restaurant in Amcorp moved out to a new location, Jaya 1 (which is more or less just 5 minutes away). So far, I haven't popped in to try it yet but I've heard it's still consistent to its good ol' standards of pricey but delicious food.
Anyway, the new restaurant contact details are as follows:
Overseas Restaurant @ Jaya 1
Telephone No.: 03-7956 9911
Website:
CLICK HERE
:)
(Hope you don't mind if I leave my old review here till I have a chance to go to the new Overseas restaurant to try it out)
Ciao,
J
[ END EDIT ]
Let me start by disclaiming the price of the meal I'm about to tell you all about. It's not that Overseas Restaurant is necessarily this expensive - it CAN be if you order certain premium items... but it doesn't HAVE to be.
Anyway, Nick helped me book a nice private room in the Overseas Restaurant at Amcorp Mall (since he and his family go there pretty often):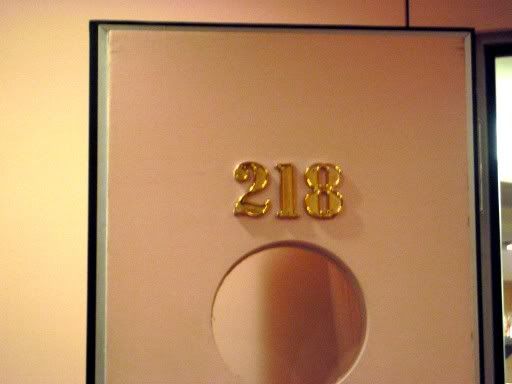 The Room Number and the View From The Room
(See! The number is so prosperous!)
Generally, the ambience here is ok - it is comfortable but definately not breathtaking in any way (you can choose between the private rooms - very limited - and the open area):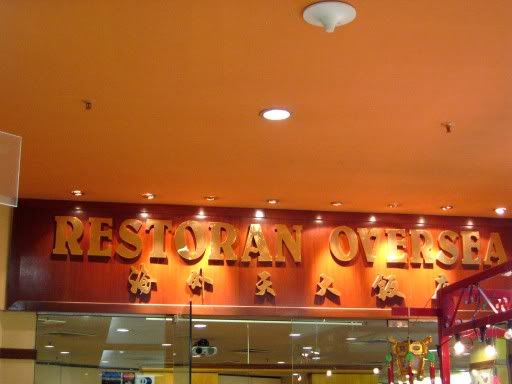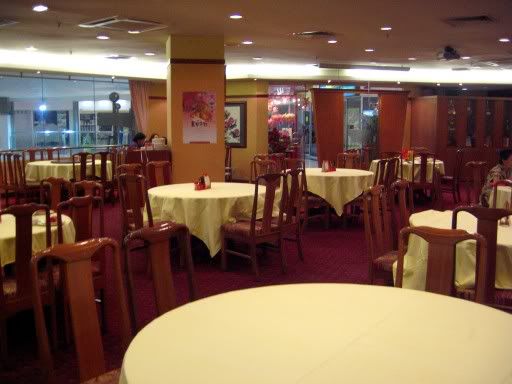 A peek into Restoran Overseas, Amcorp Mall
The appetiser served is worth a mention:
Nuts!
The stewed peanuts, big and juicy, are really addictive but be careful - you can ask for as many refills as you want but they cost RM2 a plate....
First up, the killer priced item - Shark's Fin Soup, which came up to be almost two thirds of the total bill:
(My parents kinda went crazy that night and ordered the one that costs RM120++ PER BOWL)
(No, no, I'm not trying to show off - I'm really still in major shock)
(O_O)
(My wallet still feels the pain in an empathic way)
Caution: Hot Steaming Bowl Of Political Incorrectness...
Yum... I feel guilty saying this but it was good....
(Sorry, Mr Shark)
The soup was thick but not starchy and bursting with flavour. It had a very generous amount of shark's fin and two big pieces of crab meat.
(Note: There is shark fin's soup of various grades with prices ranging from RM50/per bowl to well,... insanely expensive/per bowl)
Next up, the "Soon Hock" fish served in two styles, deep fried and sauted with vegetables: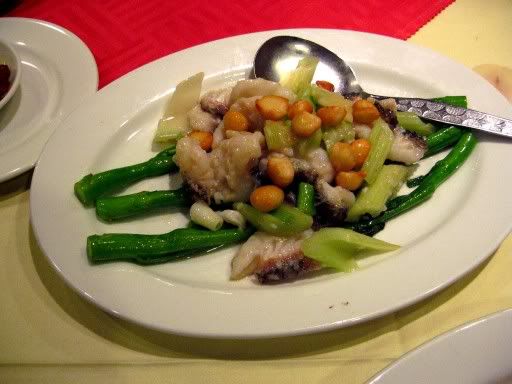 Left to right: The "Soon Hock" - deep fried and sauted with vegetables
Sounds so simple, doesn't it?
Yeah.... but it tastes really good though.
It just proves without a doubt that as long as the fish is fresh and prepared by a skillful chef - it will taste GREAT. The deep fried fish, served with a soya based sauce was crispy on the outside but oh so delicate on the inside....
*drool*
The "Soon Hock" fried with mixed vegetables and deep fried macademia nuts was also nice - wonderfully tender texture and delicately flavoured as to not overpower the natural sweetness of the fish.
(If I ever have RM120 to blow again - I'm ordering this for sure!)
We also had a Fried Mi Sua that night: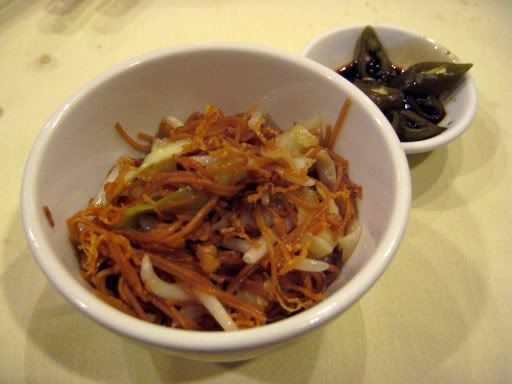 The Fried Mi Sua
Sorry - didn't take a piccy of the full plate because the waitress served it up while I wasn't looking.... Anyway, it tasted ok - not too salty or oily with a generous amount of meat and veg in it.
Also, that night we ordered the Potato Leaves in Superior Stock: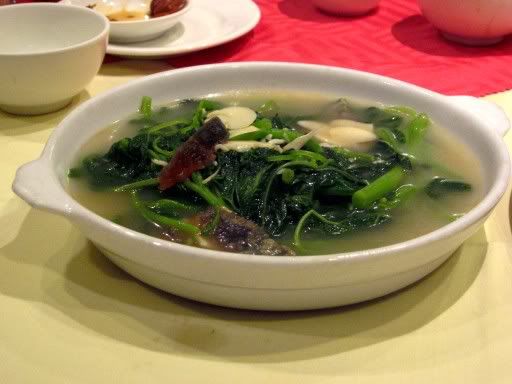 Potato Leaves in Superior Stock
Mmmmm... I love this dish here!
The vegetables have been lovingly cooked in the soupy base with garlic and century eggs - making a delish yet healthy choice (about RM15).
We ended our dinner with the Fresh Mango served with crushed ice: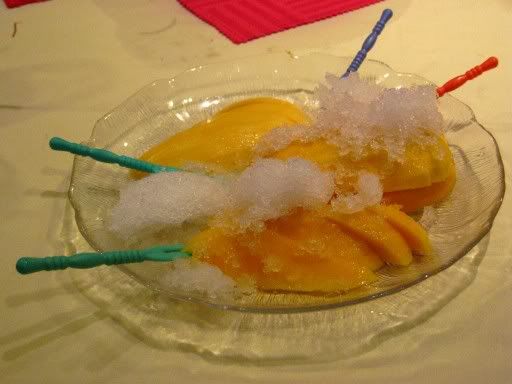 Fresh Mango
This dessert was simple and nice - the mango was sweet, succulent and very refreshing after such a rich meal. On the downside, we were charged RM12 for it - which I find a rip off.
(I mean, come on: You just peel the thing, cut it and put it on a plate! How can you have a high mark up for that level of expertise?)
There are many other branches of this successful restaurant chain but the one at Amcorp remains one of my favourites as it is smaller and tends not to have noisy wedding parties going on concurrently.
So it's: Unpretentious dining, wide range of dishes, good taste, fresh seafood BUT must be careful what you order - can be very expensive.
Restaurant Review
Summary Sheet:
Restoren Overseas @ Amcorp Mall Jaya 1
Taste: 8
Ambience : 6
Service : 7
Price** : (My dinner that night) RM170/++ per person, (Normal dinner) RM40/++ per person
Parking: OK

** Approximation - Per person, Typical Chinese dinner, excluding drinks
Telephone No.: 03-7957 2646 03-7956 9911
Website: CLICK HERE
Opening Hours: 11am - late
NOT HALAL
TAGS: Food, Blog, Weblog, Malaysia, Restaurant Review, Restaurant Reviews, KL, PJ, Petaling Jaya, Kuala Lumpur, Local Food, Seafood, Amcorp, Jaya 1, Chinese