A quick write up on an interesting place to eat....
The restaurant is simple and comfortable - located in the Rainforest area of One Utama's new wing (in the outside area, sorta just behind Kluang Station):
Chatterbox Interior
The menu is mostly like any other Hong Kong restaurant but I think the food here is nice as there are some special items. My favourite dish is this starter, the Chicken Floss Tofu:
Chinese Lasagne! :)
(It kinda reminds me of lasagne somehow)
This dish, which is served cold, is very simple but nice: it's basically thin slices of silky tofu with chicken floss layered in between, sprinkled with seaweed and served with a simple soya sauce dressing.
The fried rice is generally quite nice here. That time, we tried the Fried Rice With Beef:
The Fried Rice with Beef....
The texture of the rice is just dry enough and thankfully, not too oily - and tasted lovely when eaten with the "Latt Chiew Yauw" (Chili oil).
(It is free flow here for the chili oil! - Eat as much as you want... Not like some places *cough-OneNoodleInSS2-cough* which try to charge you for it)
The drinks here are not bad too. Here is the Iced Honey Lemon and Fruity Cincau we had that day: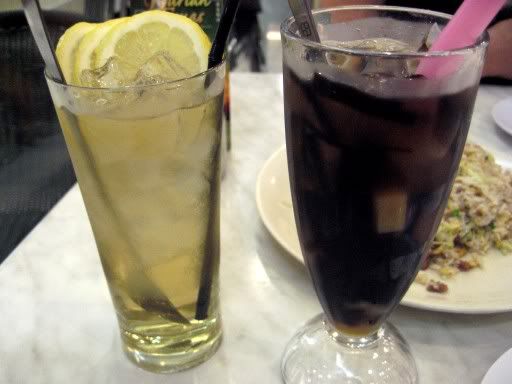 Left to right: The Iced Honey Lemon and Fruity Cincau
They are not as expensive as other Hongkie places, but not that cheap either.
(Reasonable lah)
Overall, it's worth a try: Decent servings for decent prices (and they taste pretty good too).
TAGS: Food, Blog, Weblog, Malaysia, Restaurant, Food, Petaling Jaya, PJ, Chatterbox, One Utama, Chinese, Hong Kong