Havin' a spot o' tea like the Bri'ish...
It was a beautiful setting - a rustic Tudor house surrounded by a beautiful garden in the cool air of Cameron Highlands:
The Smokehouse Exterior
The dining areas of The Smokehouse were also a visual feast - you will be spoilt for choice between the fresh open air garden area, the traditional yet warm dining room area or the cosy and airy patio area:
The Smokehouse Interior
There are basically two main options for tea:
1) Set 1 for RM18++(Tea, 2 Scones, Strawberry Jam+Butter+Cream)
2) Set 2 for RM25++(Tea, 2 Scones, Strawberry Jam+Butter+Cream AND a piece of fruit cake)
The first thing that peeved me was that they insisted that the big pot of tea cannot be shared... and so I had to pay an extra RM8++ for what was effectively one extra tea bag and a cup.
*sigh*
The Tea
Anyway, the scones were pretty good: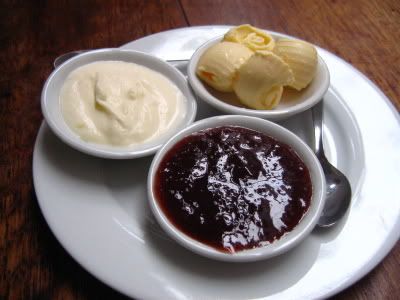 The Scones
Freshly baked everyday, the scones were fragrant with a crumbly but moist texture. Paired with generous amounts of the homemade strawberry jam (loved it!), butter and cream, it proved to be an enjoyable and light treat for the day.
Sadly, the service was lacking somewhat. On both occasions we went there, the wait staff were either:
1) Blur,
2) Slow,
3) Unhelpful,
4) Unfriendly/ Frowning, OR
5) All of the above.
I know this place has a trump card due to its unique setting and ambience, but if they can just improve on their service then it would make a truly wonderful and memorable experience.
Besides, the prices there are not exactly what I would call reasonable. I found it a bit pricey in fact, but since I was "on a holiday" I thought: "Aiyah, what the heck. It's not like I come to Cameron Highlands everyday - just eat lah".
(I even browsed through the dinner menu and saw that most of the items there - even something that sounds simple like a pie - costs more than RM40++)
In any case, FYI: The phone number for The Smokehouse is 05-4911 215 and it is located just off the main road in the Tanah Rata area, somewhere between the Tanah Rata town and the Peak area.
(You should be able to see the signboard from the main road)
TAGS: Blog, Weblog, Malaysia, KL, Kuala Lumpur, The Smokehouse, Scones, Food, Restaurant, Pahang, Cameron Highlands, Personal