An impulsive trip to Northwards for food.....
One fine Sunday morning, me and P decided to go Northbound, for fun, to sample some delicacies....
(Yeah, we're just THAT free and apparently we didn't get the memo on the fuel price increase.. Haha)
First stop - Bidor!: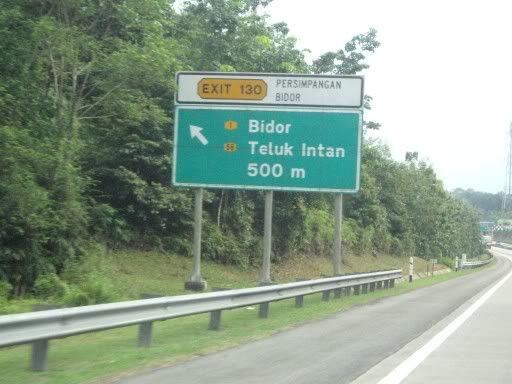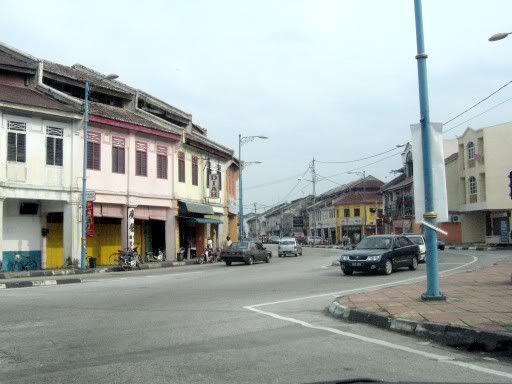 On the Highway and A Peek at Bidor Town
We stopped by for the famous Bidor Duck Noodles at Pun Chun Chicken Biscuits and Restaurant: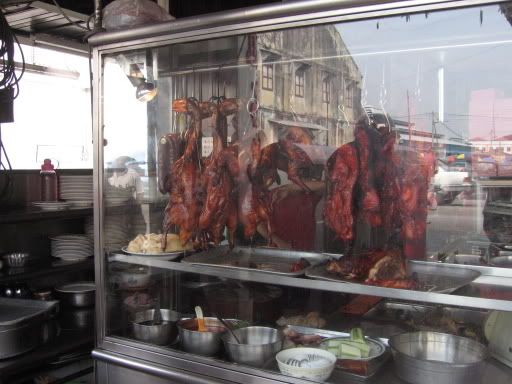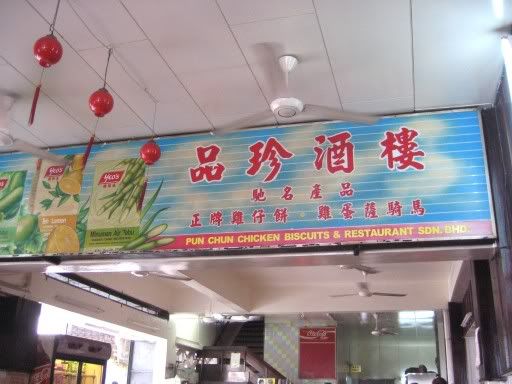 Yummy Ducksssss - I love you!
Having come all that way, I just HAD to have the Duck Noodles: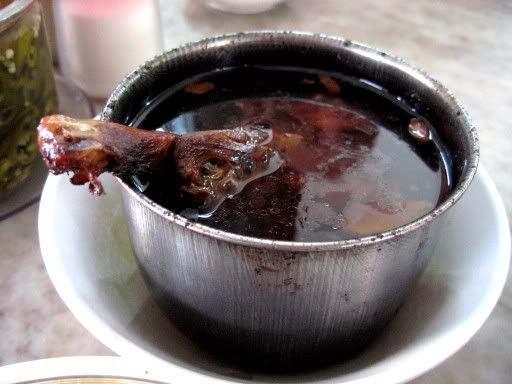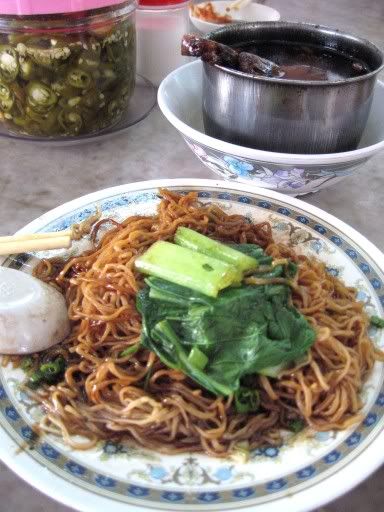 Close Up of The Duck Soup and Accompanying Dry Noodles
You can either have it prepared "Kon low" (Dry Noodles with Duck Soup on the Side) or "Chuu Sui" (Noodles Served In The Duck Soup)... I like both but chose to have it "Kon low" that day.... and MMMMMM, it was good.
:)
The Duck Soup, cooked with various Chinese herbs, is aromatic and bursting with yummy ducky flavour... You can also tell that it had been lovingly slow cooked as the meat was tender, falling right off the bone.
(The noodles were ok lah - the highlight for me was definately the duck)
Mind you, the Duck Noodles are a horror to non-duck loving ppl... Like P, who took a sip of my soup and made such a face....
(He not only dislikes ducky taste but also chinese herbs, generally, so I suppose it was a double whammy for him)
(Good lah - more for me! Muahaha)
Anyway, there are other options such as the normal Wantan Noodles and "Woo Kok" (Yam puff):
The Wantan Noodles and The "Woo Kok"
The Wantan Noodles were pretty good - P liked that the noodles tasted fresh and springy, but lamented that the Wantans here nothing to shout about. The "Woo Kok" was also ok - worth a try but for about RM1 per piece, it did not rock my world.
This place is also famous for the wide range of traditional snacks and biscuits that they sell: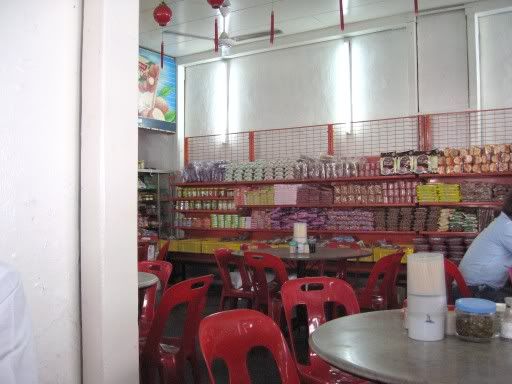 The Biscuit Sold In Pun Chun
They have everything from crispy and savoury "Khaii Chai Peng" (Chicken Biscuits) to sweet and sticky "Phong Phieah" (erm, literal translation: Fragrant Biscuits?). If you get confused on what to buy, just ask the ladies at the payment counter - they're usually quite helpful.
:)
According to the "See Thouw Phorr" (Boss Lady), this is a 20 hour restaurant - open from about 5.30am till 1.30am (WOAH!).
There are also many stalls/ shop houses nearby selling petai and a wide array of fruits: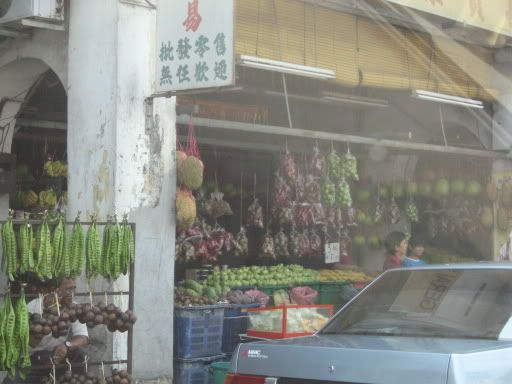 Rows of Shops Selling Fruits and Petai Near Pun Chun
I have always found that the Jambu (both the Batu and Air) sold here is very nice, and do not miss out on buying as much as reasonably sane when I am in the area.
Here is my Food Souvenier Booty from the Bidor trip: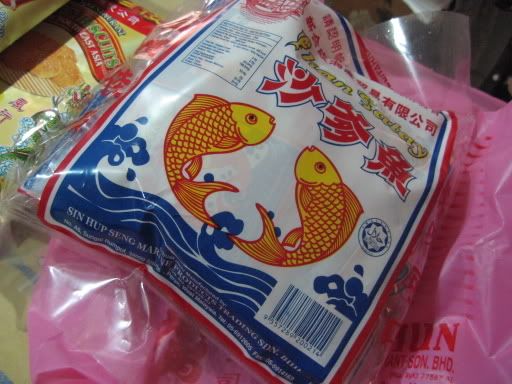 Clockwise from top:
Various Black Sesame Biscuits (Delicious!),
Jambu Batu (the green one) & Jambu Air (the pink ones) & Chicken Biscuits (All yummy!),
and Packets of Sate Fish (Also nice!)
Anyway, this brings me to the end of Part 1 of The Happy Wanderer.
:)
Next stop: Ipoh!:
That day, we figured that since we were at Bidor, why not go to Ipoh for Noodles as well?
Haha.
I dunno what came over us that day.
(Just pure greed, I suppose)
;)
Till next time,
J
PS:
Almost forgot -
here are some directions to Pun Chun
: It's very simple, just follow the North-South highway and turn out at the Bidor toll exit. After the Bidor toll, drive straight till you reach a T-junction.
There, turn right towards Bidor town. Then, keep driving straight (just a short way down) till you reach a traffic light with a KFC in a building on the left.
You will now see shophouses on both sides of the road. Pun Chun will be somewhere in the middle of the second row of shops on your right.
Ok?
Don't worry anyway. You shouldn't get lost - Bidor town really isn't that big.
TAGS:
Blog
,
Weblog
,
Malaysia
,
Jambu
,
Biscuits
,
Pun Chun
,
Perak
,
Specialty
,
Local Food
,
Food
,
Bidor
,
Duck Noodle
,
Duck Noodles
,
KL
,
Kuala Lumpur
,
Personal