A delicious place to visit in Cameron Highlands....
A picture speaks a thousand words so this time, I will start by letting the photos communicate to you by themselves... First up, the Strawberry Ice Cream: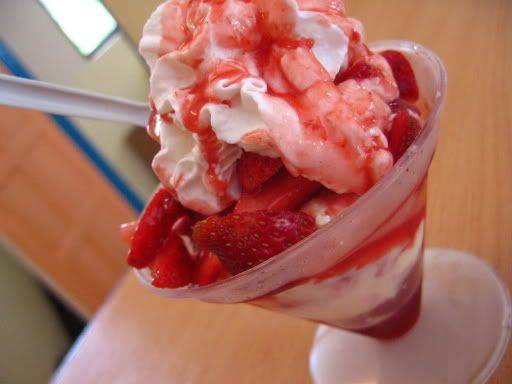 The Strawberry Ice Cream
Next, the Strawberry Milkshake:
The Strawberry Milkshake
They both look so yummy, don't they?
*droooool*
:)
Well, just so you know:
The Strawberry Ice Cream is
lovely
- priced very decently (RM6), the combination of the juicy but slightly sour strawberries goes very well with the sweet taste of the strawberry sauce and the creamy vanilla ice cream and whipped cream.
Ahhh - perfection!
The Strawberry Milk Shake is also worth a try - smooth and refreshing with lots of yummy blended strawberries that gives this cool drink some texture (it is also priced very decently at RM7).
A list of some of the desserts
So, if you want to try a bite of these desserts - drop by Raju's Hill Strawberry Farm near the peak area in Cameron Highlands (walking distance from the Equatorial Hotel).... They only have a small range (such as Strawberries with Honey and Belgium Waffles with Strawberries) but it's definately worth a try if you're in the area.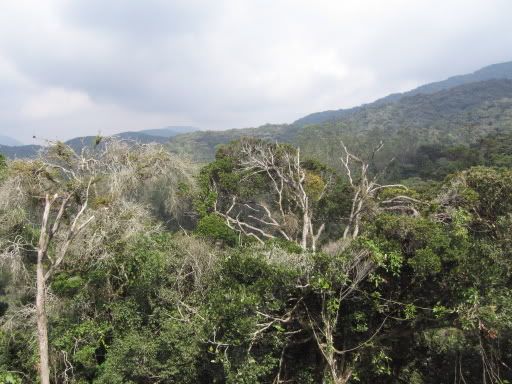 A Peek at Raju's Hill Straberry Farm
There is a nice open air area that you can sit down, relax and indulge in these desserts while looking at the trees.... Otherwise, there's nothing much to see at Raju's Hill - the strawberry farm itself looks rather pathetic.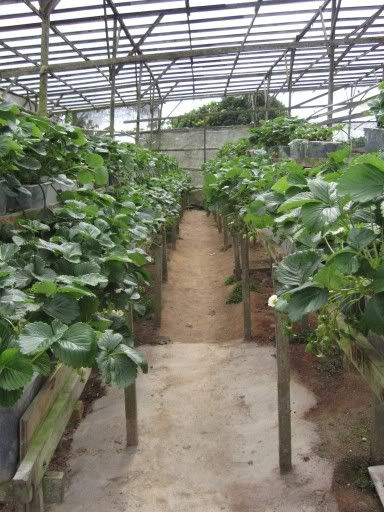 Misc shots of the strawberry farm
See?
TAGS: Blog, Weblog, Malaysia, Dessert, Desserts, Strawberry, KL, Kuala Lumpur, Strawberry Farm, Raju's Hill, Pahang, Cameron Highlands, Personal