Not Halal lah.... sowe kawan-kawan.
Mama's Kitchen is a simple Chinese restaurant in Taman Tun Dr Ismail (TTDI) area near 18-21 and Devi's Corner - I had never noticed it before but it came recommended by a good friend of mine so I decided to try it out: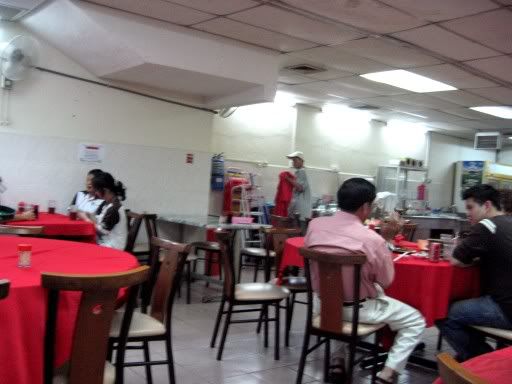 A peek into Mama's Kitchen
Ambience?
Well, it is a typical Chinese Coffeeshop/ Restaurant, with its basic finishing and garish red tablecloths but I noted that it seems pretty clean, so that's a plus to me.
The signature dish here is the claypot "low shu-ee fun" (literal translation: "rats tail noodles"):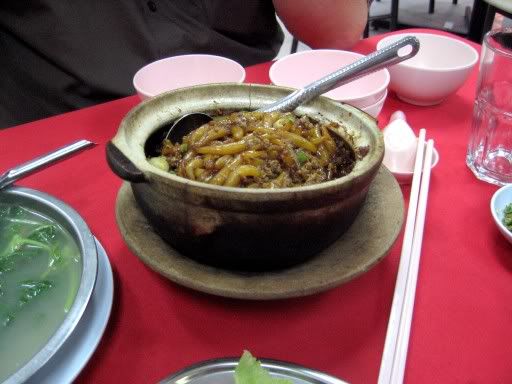 Rat's Tails in a Claypot - Yummy!
It was surprisingly good... not FANTASTIC mind you, but definately something I wouldn't mind trying again. The noodles were "springy" and thankfully not starchy, cooked very simply with egg, minced meat and black sauce. I liked that it wasn't too salty or too oily.
We also tried a variety of other dishes: Potato Leaves In Superior Stock, Butter Fried Prawns and Kum Heong Lala....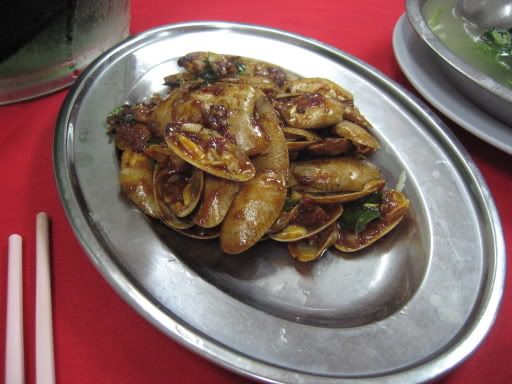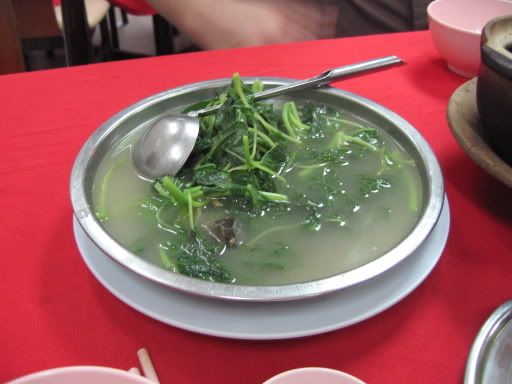 Clockwise from top left: The Butter Fried Prawns, Kum Heong Lala and Potato Leaves In Superior Stock
The soupy vegetables, cooked with ikan bilis and century egg, was very "ching" and still a little crispy as it was only lightly cooked. The soup base was also not very salty. Overall, OK but it definately didn't impress me.
(My problem is that I always peg the quality of this dish to the one I ate at
Overseas Restaurant
, which is the best I've tasted so far)
The Butter Fried Prawns were ok... tasty but not quite crispy enough. The Kum Heong Lala was also not that great - fragrant but a bit too salty (.. and so little meat in the lala - it was more shell than anything else)
It doesn't stop there though! We were very greedy that night and ordered 2 types of pork, the Pork in Marmite Sauce and the Deep Fried Belly Pork with Honey Sauce:
Double the sin (left to right): The Deep Fried Belly Pork with Honey Sauce and the Pork in Marmite Sauce
I quite liked the Pork in Marmite Sauce and the Deep Fried Belly Pork with Honey Sauce (as unhealthy as I know they are). It was, arguably, a bit too salty (the Pork in Marmite Sauce)/ too sweet (the Deep Fried Belly Pork) but it tasted excellent with rice.
Texture-wise, the Pork in Marmite Sauce was not very tender... but oh man, the Belly Pork was so sinful - once you bite through the crispy light batter, you can feel the delicious juices (half melted fat!) run into your mouth in a burst of cholestor-ific flavour....
(Caution!: It's probably not a good idea to eat this too often)
They also serve the coffeeshop style big bottles of beer here.... glamourously placed in a chiller a la champange (upon request):
Carlberg in a chiller - Classy
Prices are pretty decent: dinner for the 3 of us came up to about RM80 (although I'm pretty convinced that our meal could have fed 4 people - we were so greedy that night...)
So it's: Casual, low key Chinese restaurant, decent food for decent prices but blur waiters and well, nothing else really, I wouldn't mind going back again for convenient and simple food.
Restaurant Review
Summary Sheet:
Mama's Kitchen @ Taman Tun Dr Ismail, KL

Taste: 6
Ambience : 5
Service : 6
Price** : RM20/++ per person
Parking: A pain in the afternoon - Ok at night.

** Approximation - typical Chinese meal, excluding drinks
Telephone No.: 03-7729 3030
Opening Hours: 11am - late
NOT HALAL
TAGS: Food, Blog, Weblog, Malaysia, Restaurant Review, Restaurant Reviews, Taman Tun Dr Ismail, Kuala Lumpur, KL, TTDI, Mama Kitchen, Mama's Kitchen, Chinese, Claypot Noodles