... diverting back to the regularly scheduled programme....
The Dinner
This time, we ventured to a (relatively) new Italian restaurant in the One Bangsar area called
Vincenzo Ristorante Italiano
. I must say though, it is really unnerving when you are in a romantic restaurant with dim lighting and modern furnishing when there is upbeat Spanish/ Mexican music playing in the background.
(Music that, I might add, is usually played in any given Nando's outlet in Malaysia)
(It's not a MAJOR flaw but it definately spoils the ambience somewhat)
Vincenzo Interior
Anyway, we started off with the Grilled Mushrooms and the Grilled Eggplant: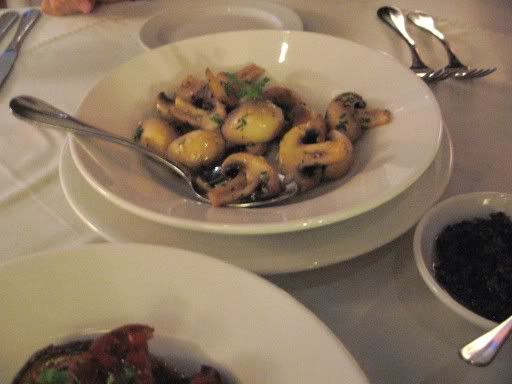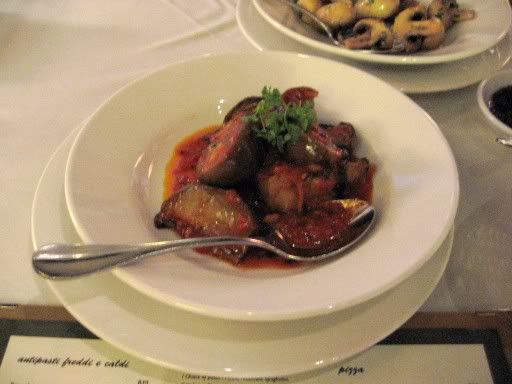 The mushrooms and the eggplant
The Mushrooms were nice - lightly grilled with herbs. The Eggplant on the other hand was only ok - tender and juicy but just a tad too oily, cooked in a rich tomato based sauce.
Next up for the mains we had the Chicken Kiev/ Pollo Al Funghi, Grilled Cod and Spaghetti with Scallops and Prawns: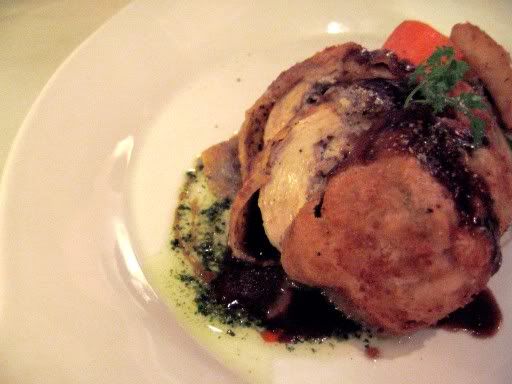 Clockwise from top right: The Chicken Kiev, Grilled Cod and
Spaghetti With Scallops and Prawns
I was very disappointed with the Chicken - dry and generally quite tasteless - it reminded me of a chicken breast from KFC with some turkey ham, mushrooms and cheese rolled inside.
The fish was pretty good though - tender and delicately flavoured - it is supposed to be one of Vincenzo's specialties.
My favourite of the 3 was definately the pasta - both the scallops and prawns were cooked juuuuust right and were bursting with flavour. I find that Vincenzo's does pastas very well. You usually can't go wrong choosing any one of them.
(I've tried the Pasta with Artichoke and Prawns on a prior occasion and remember liking that too)
Lastly, for dessert we had the Panna Cotta and the Chocolate Pie: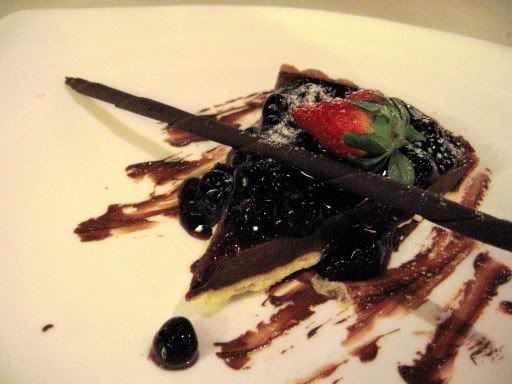 The Panna Cotta and the Chocolate Pie
I haven't tried many Panna Cottas before so I don't really have a good point of reference but in any case: I didn't like it - the texture was moist but strangely bouncey (for lack of a better word), with a vanilla flavour.
(Definately not ordering this again)
The Chocolate Pie was quite nice though - sinfully rich and satisfyingly chocolatey.
(My only complaint is that it costs more than RM20)
Overall, it was an enjoyable dinner (I wouldn't mind going back there sometime) - I really liked the pastas but will definately make it a point to be more careful when choosing any of the meat dishes (seeing as the chicken I had was a waste of money).
So it's: Nice romantic ambience, attentive waiters, nice pasta BUT strangely out of place music and hits & misses on the menu.
Restaurant Review
Summary Sheet:
Vincenzo Ristorante Italiano @ One Bangsar

Taste: 7
Ambience : 7
Service : 7
Price** : RM75/++ per person
Parking: OK

** Approximation - 3 course meal, excluding drinks
Telephone No.: 03-2287 1686
Opening Hours: 11am - late
NO PORK SERVED
TAGS: Food, Blog, Weblog, Malaysia, KL, Kuala Lumpur, Restaurant Review, Restaurant Reviews, Bangsar, One Bangsar, Telawi Street, Vincenzo, Vincenzo's, Vincenzo Ristorante Italiano, Italian, Romantic