The Dinner
That night, we ventured to La Suisse. This restaurant has been around for many years now and is a popular choice for juicy steaks in the Bukit Damansara area....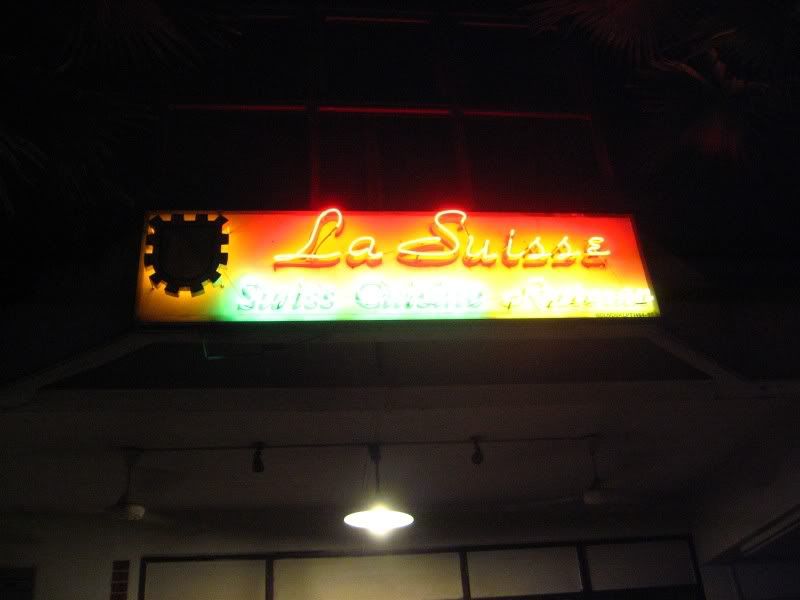 La Suisse Exterior
Although it definately cannot boast of having a breathtaking ambience, I found it simple, comfortable and cosy (other than the distinct lack of music in the background):
La Suisse Interior
The appetizers we had that night were the Deep Fried Cheese (sorry - there was some funky Swiss name for this but I've forgotten), the Escargot and the Sauted Mixed Mushrooms: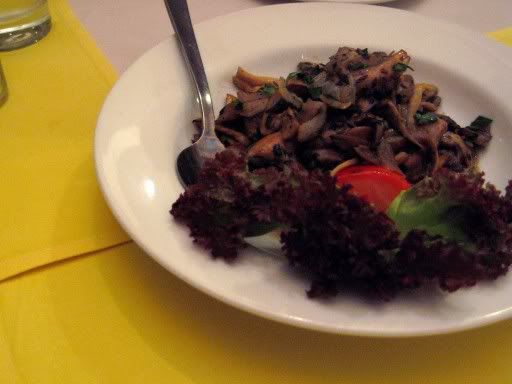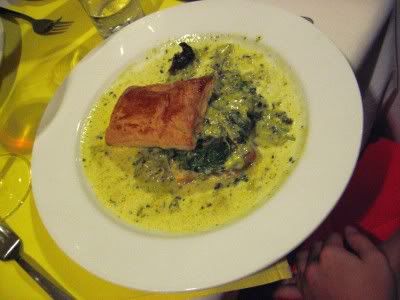 Clockwise from top left: Sauted Mixed Mushrooms,
Deep Fried Cheese and Escargot
Overall, all the appetizers were good.
(They all cost around RM25++ but the servings are pretty generous so you won't feel cheated)
I love a good plate of Sauted Mushrooms and the one at La Suisse was well balanced and seasoned with herbs that the shitakes do not overpower the delicate button mushrooms at all - delicious!
(Something I would order again)
The Deep Fried Cheese was also good, gratinated cheese atop golden brown bread - so simple yet sinfully sublime.
(I apologise for the bad photo but someone got overexcited and dissected it before I could snap a proper shot)
The Escargots were really juicy, served with a cream sauce and sandwiched between 2 pieces of fluffy pastry and a bed of spinach - also worth a try.
(I would love to be able to explain further but I only managed to steal one piece from Ken)
For the mains, we tried the Braised Lamb Shank, Lamb Chops and Grilled Monkfish with Basil Sauce: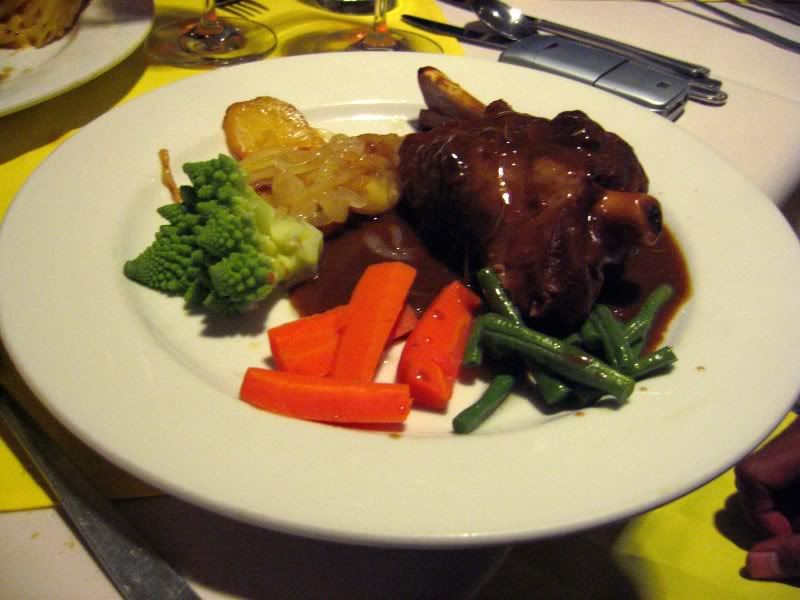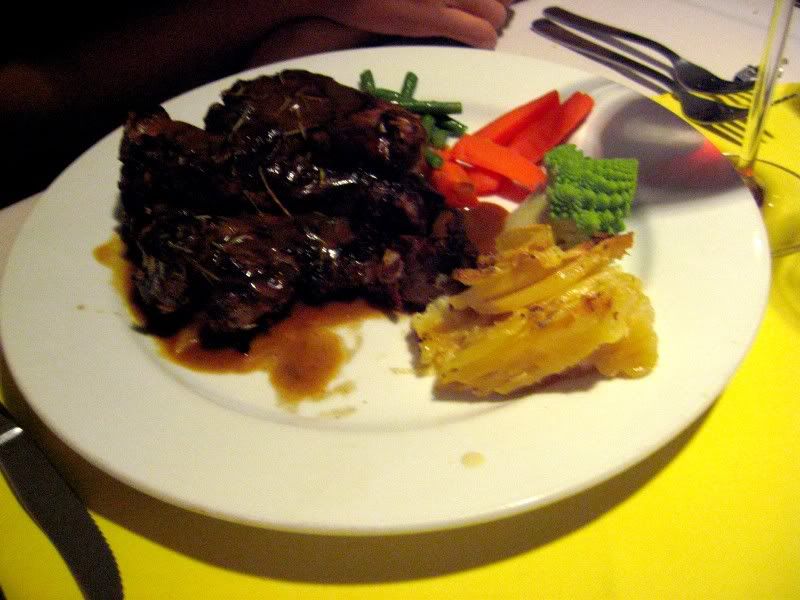 Clockwise from top left: Grilled Monkfish with Basil Sauce,
Lamb Shank and Grilled Lamb Chops
The Lamb Shank was good - the meat was tender and was cooked in a simple brown sauce...
The Lamb Chops, served with a flavourful rosemary sauce, was only ok... The meat was tender but just a tad to salty.
I didn't like the Monkfish very much either - the basil sauce was nice but the fish was also a bit too salty.
Anyway, how could we go to La Suisse and not try it's famous Angus steak?: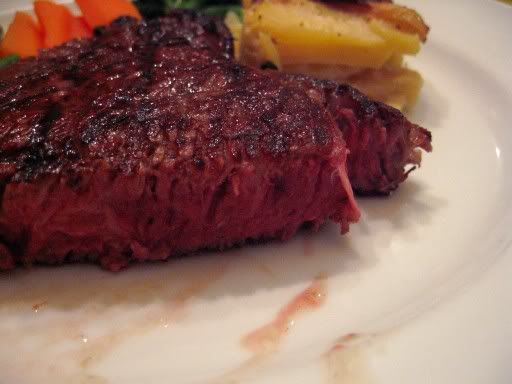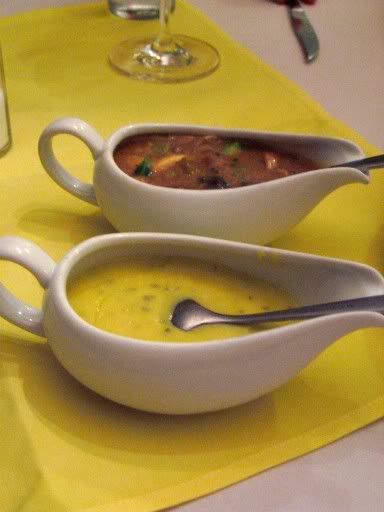 Various Photos of The Angus Steak with
the Bearnaisse and Mushroom Sauce
Mmm-MMM. It was GOOD.
Just look at it!
Juicy and flavourful, you can have your steak served with a few different sauces (I like the black pepper, the mushroom and the bearnaisse sauce). They even generously give you a serving pot of extra sauce so that you can have as much as you want.
We ended the night with a bevy of desserts... That night, we had the Raspberries with Vanilla Ice Cream, Red Wine Cherries with Crepe & Vanilla Ice Cream and Red Wine Cherries with Vanilla Ice Cream: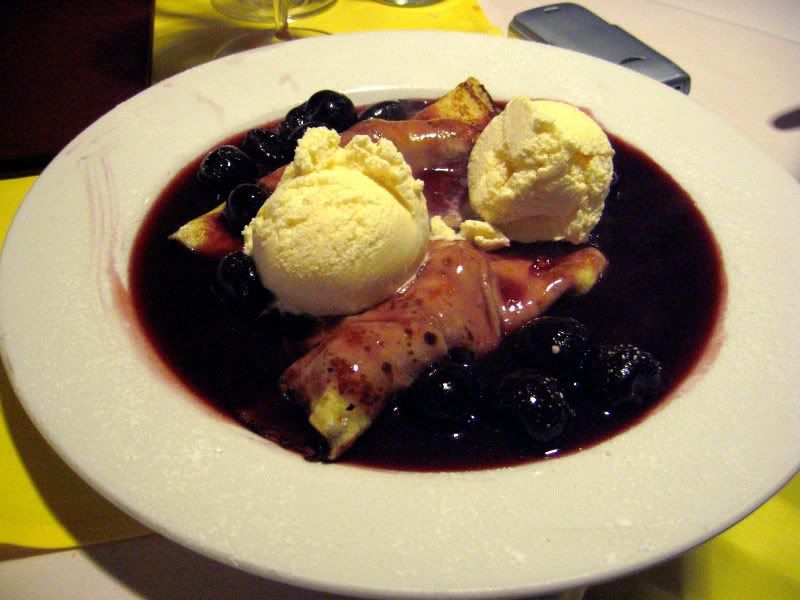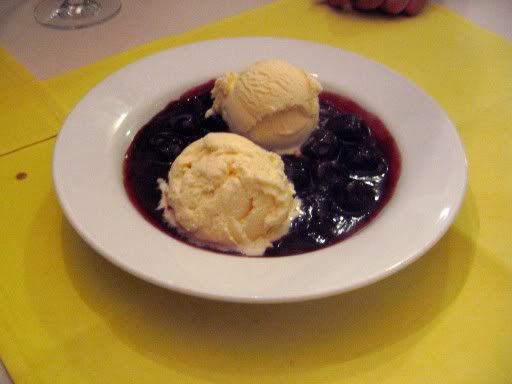 Clockwise from top left: The Red Wine Cherries with Crepe, Red Wine Cherries,
The Raspberries with Vanilla Ice Cream and the Extra Serving of Raspberries
The desserts are generally quite simple but very yummy so please make sure you reserve space for them at the end of your meal.
The Raspberries with Ice Cream were scrumptious - the sharp, sweet and sour taste of the warm raspberries were absolutely striking against the cool, creamy sweet vanilla ice cream.
(It comes served with an extra serving of warm raspberries on the side)
The Red Wine Cherries, either way, were also great! (if you have them with the crepe & ice cream you get slightly less cherries). The cherries, served warm in a red wine sauce, were ripe and rich in flavour - paired beautifully with the vanilla ice cream.
Note:
La Suisse gets very packed on weekends so please call ahead to book a place or be prepared to wait for a table.
[ BEGIN EDIT ]
(Dec 2007)
:(
Be warned!
Saturday nights seem to be getting increasingly packed and noisy because La Suisse is popular with families. I do try to be as tolerant as possible with kids because well, they're young and we should all let them enjoy it while it lasts but when they start running around in the small space of the restaurant.... Well, let's just say it's pretty annoying.
(Week nights and Sunday nights are usually nice and quiet though)
(Have deducted a point off the Ambience score accordingly)
Oh, the steaks (and most of the other food) are still great though!
:)
[ END EDIT ]
So it's: Good food, comfortable and simple ambience, reasonable prices for the serving size BUT not very impressed with the fish, no background music and nothing much really, I'm definately coming back - watch out not to overdose of red meat though.
Restaurant Review
Summary Sheet:
La Suisse @ Bukit Damansara

Taste: 7.5
Ambience : 7 6
Service : 7
Price** : RM80/++ per person
Parking: OK

** Approximation - 3 course meal, excluding drinks
Telephone No.: 03-2094 6587
Opening Hours: 11.00am - 2.30pm, 6.30pm - late (Closed on Sundays Now open on Sundays!)
NO PORK SERVED
TAGS: Food, Blog, Weblog, Malaysia, Restaurant Review, Restaurant Reviews, Bangsar, Bukit Damansara, Kuala Lumpur, KL, La Suisse, Swiss, Steak