... on my way to meet my baby for dinner the other day.
I saw a stoned looking cow standing on the curb opposite the shophouses in the Aman Suria area... it was just there staring blankly at all the cars that drove by.
(You'll have to take my word on it, I couln't take a photo as I was speeding past at about 70kmh and only had enough time to think: "WTF?" to myself)
P was very clever and suggested that it was the Chinese restaurants in the area keeping some fresh stock in case of emergencies like a sudden and voluminous order of black pepper beef.
(Riiiiiiiight........)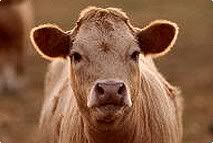 "Moo?"
It's just so strange to find a moo-moo standing there seeing as that area and the surrounding areas are so developed...
(What? It cantered over from One Utama?)
(Or is it some eccentric millionaire's pet from Tropicana?)
Strange.... very strange.
Anyway, hope that you all have a great weekend ahead - see you on Monday!
(Next week, I'll be posting up about Sri Paandi's @ TTDI and Vincenzo's @ One Bangsar so check back for more food then)
Cheers,
J
TAGS: Blog, Weblog, Malaysia, KL, Cow, Aman Suria, Kuala Lumpur, Personal