Thank you God for not killing off my faith in the Malaysian Arts Scene completely as it was already wavering so precariously...
On Sunday, we went to watch the new Faridah Merican + Joe Hasham play,
The Two Of Us
at the Actors Studio, Bangsar Shopping Center (BSC)...
Poster of The Two Of Us
The production is a light-hearted one - set in 2 totally distinct parts - with the only similarity being that it is always a couple (husband & wife) in a humourous scenario.
The first part, entitled Black & White, is set in Italy where a young married couple returns to their honeymoon hotel in Venice with their newly born baby with them for a holiday. It's cute to see the young couple try to be romantic in the wee hours of the morning while trying to keep their baby at peace.
(Ooh, I am almost afraid to have babies - I dunno how I will adjust to waking up at 3am everyday....)
(And I must say: The first part of the play was extremely short! - only about half an hour)
A Peek at the first part - Black&White
The second part, entitled Chinamen (listen up for the racist comment that is linked to the name), a married couple, Stephen and Jo have arranged to have friends over for dinner but find out too late that they've accidentally invited both Barney and Bee, who've recently separated AND Bee's new boyfriend Alex...
(*lol* Watch the chaos ensue as they try to keep everyone conveniently away from bumping into each other)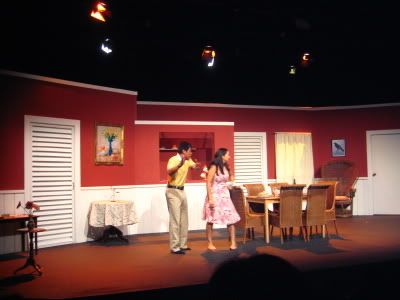 A peek at the second part - Chinamen
The entire (almost) 2 hour production has only 4 actors - Ari Ratos & Mary George for the first part and Joanna Bessey & Rashid Salleh for the second part. Although Ari & Mary did a commendable job as the bickering-snuggling-bickering couple, Joanna & Rashid really shone in their multiple roles as the husband+wife+toyboy+drunkard ex-husband+needy ex-wife...
Overall, it wasn't
FANTASTIC
but definately worth a watch on a lazy Sunday afternoon....
(There are a few good laughs in there)
Interested?
There's still time! - It's running till the 20th of August....
Details:
Name -
Two Of Us
Venue - Actor's Studio, BSC
Dates - Wed 9 – Sun 20 Aug 2006 (Tue - Sat @ 8.30pm; Sun @ 3pm; No shows on Mon)
Price - RM40 (Adult)/ RM25 (Students, Sr. Citizens & the disabled)
Promotion - RM25 for all tickets from Tue - Thu & Sun matinee
Bookings - Call 03-2094 1400/ 0400
(And once again: NO, I am not getting paid to advertise this play. NO, I do not know or have been asked a favour to post this up by Joe Hasham/ Faridah Merican/ Joanna Bessey or anyone else linked to the play. I'm just sharing my personal opinion, nothing more and nothing less)
:)
TAGS: Blog, Weblog, Malaysia, BSC, Bangsar Shopping Center, Play, Bangsar, Play, Review, Actors Studio, Two Of Us, KL, Kuala Lumpur, Arts, Personal