An interesting coffee place I stumbled upon while walking around the Kuching city area....
A cosy little cafe opened by a sweet husband and wife team, Borneo Cafe (aka. Black Bean Coffee & Tea Company) is located at one end of Carpenter Road, near the Chinese temple at the main road: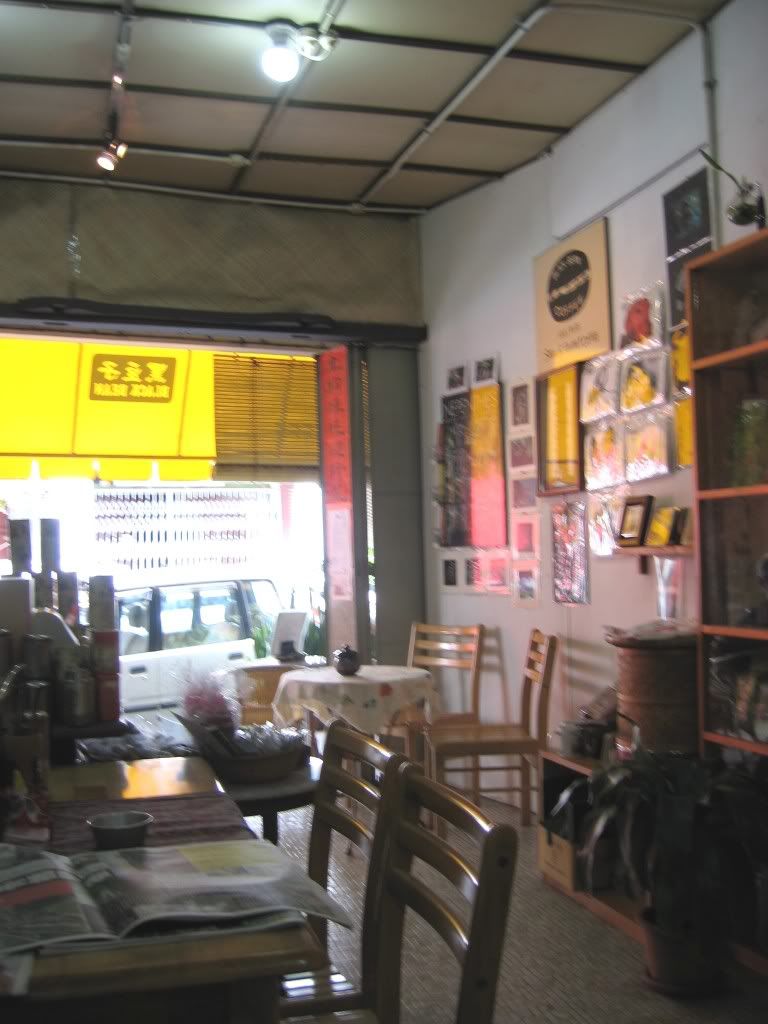 The Main Signboard and Cafe Interior
That day, we strolled in and tried the Iced Mocha and the Iced Latte: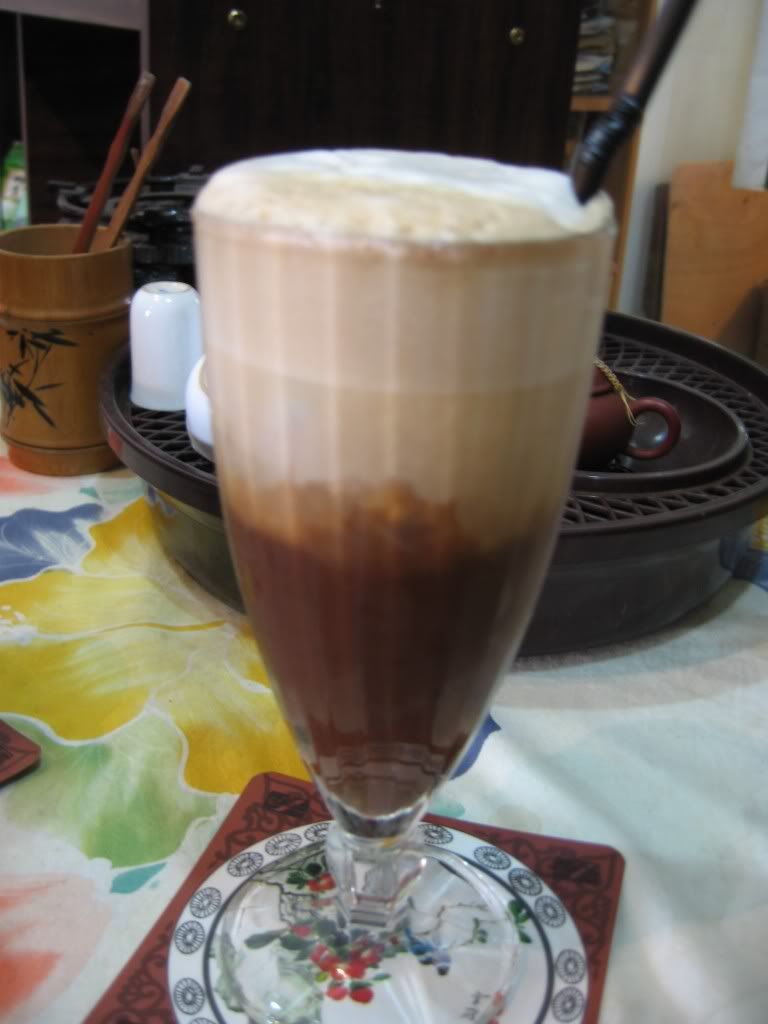 The Iced Mocha and Iced Latte
I never have and will probably never declare to be an expert in the subject of coffee. So, I can't preach in great length on the exact qualities and characteristics of this coffee as compared to others. However, in general: It has a fragrant and very fresh flavour - an almost "green" taste to it with a complex aroma that lingers on the palate.... something very different to the normal coffees that I've tasted: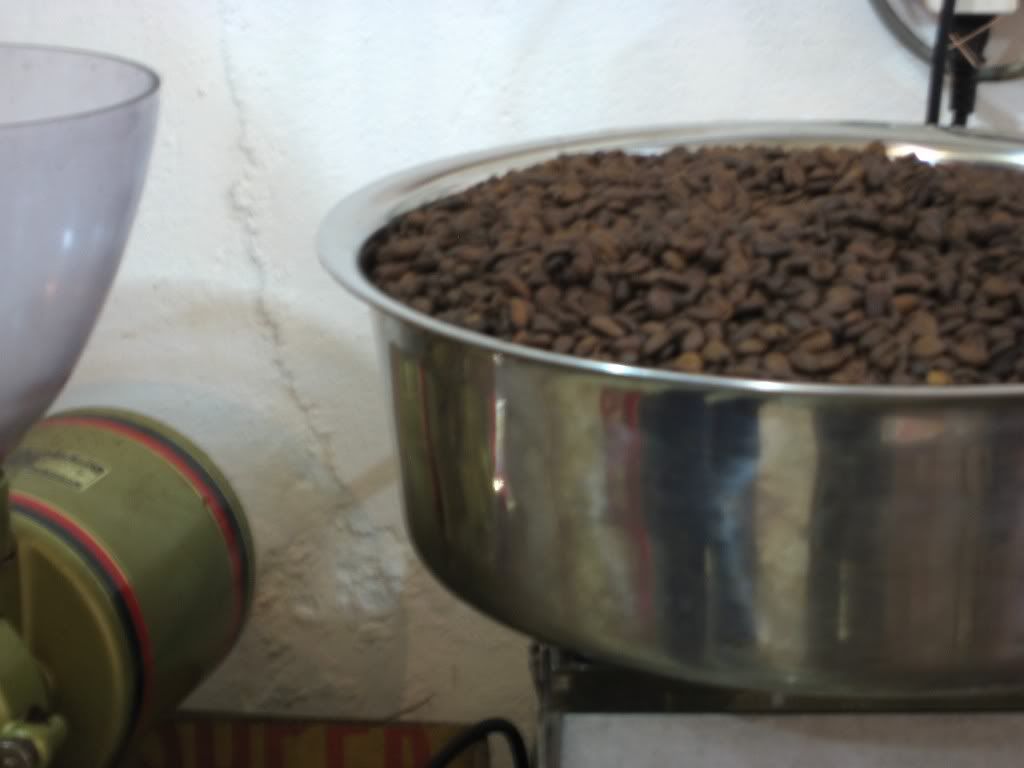 The Freshly Roasted Liberica Coffee Beans
The cheerful owner explained to us that this is the distinctive flavour of the Liberica beans which he gets fresh from the local farmers (pesticide free!) and lovingly roasts himself every morning. He also blends in some Robusta beans to give it that extra aroma.
(Apparently Liberica beans are full flavoured but do not emit a strong fragrance)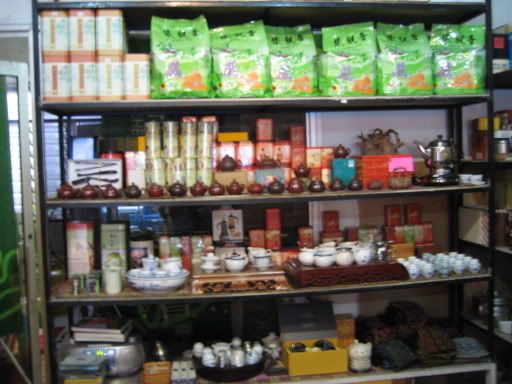 Tea!
They also serve tea there, ranging from the normal jasmines to the more expensive "pu-er" from China.
(Didn't try any tho)
Most of the coffees/ teas here are a steal at only (approx) RM4.00 a cup.
(Absolute pittens as compared to the
Beans
and the
Bucks
)
The only downside is that the place is just a tad too warm as the aircond is not powerful enough. Otherwise, it's an interesting place to try out.
They even allow purchases of their coffee beans through email but I've lost the address....
(If anyone has it, can they please share it?)
:)
[ BEGIN EDIT ]
Contact details for Black Bean Coffee & Tea Company, as follows, has been kindly provided by HungryOx:
Owner's Name : Mr. Chang Jong Yiaw
Mobile Phone : (6) 019-879 9747
Do call it (at decent hours of the day) for any enquiries.
(Thanks, Mr. HungryOx!)
[ END EDIT ]
TAGS: Food, Blog, Weblog, Liberica, Malaysia, Black Bean Coffee and Tea Company, Carpenter Street, Coffee, Kuching, Borneo Coffee