A short post on some sinful Banana Leaf Rice .....

Met with my friends Z and TL one day to catch up over some banana leaf curry at Sri Paandi's in Taman Tun Dr Ismail (it's on the same row as Secret Recipe):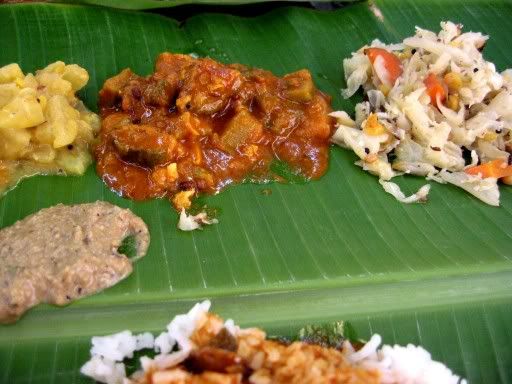 Clockwise from top left: The Fried Chicken, The Various
Vegetable Chutneys and The Mutton Curry
And here it is! The full spread:
My Sin For The Day
Overall, I found the whole meal vastly satisfying. Mind you - the fried chicken was a little dry and the curry, although flavourful, was also nothing to shout about....
No, it was definately not the meats that sparked my appetite.... the thing that made my day were the several varieties of vegetables and chutney served with the rice.
Yum yum.
I know that it's not the best Banana Leaf rice in Malaysia (I've tasted better in Penang and I think the Sri Paandi's in the Section 11, just off Jalan Universiti, is much better too) but I feel it was a good meal - convenient location (for me), tasty and pretty affordable.
(It came up to about RM10 per person, including a drink)
(Caution!: Consuming banana leaf curry during lunch will usually lead to intense cases of heavy eyelids and sleepiness - all symptoms of acute after-lunch syndrome)

Details:
Restaurant Sri Paandi (TTDI)
36, Jalan Tun Mohd Faud 1,
Taman Tun Dr Ismail,
60000 Kuala Lumpur
03-7726 8581
TAGS: Food, Blog, Weblog, Malaysia, Restaurant, Taman Tun Dr Ismail, Banana Leaf, Banana Leaf Curry, Banana Leaf Rice, TTDI, Indian, KL, Kuala Lumpur, South Indian